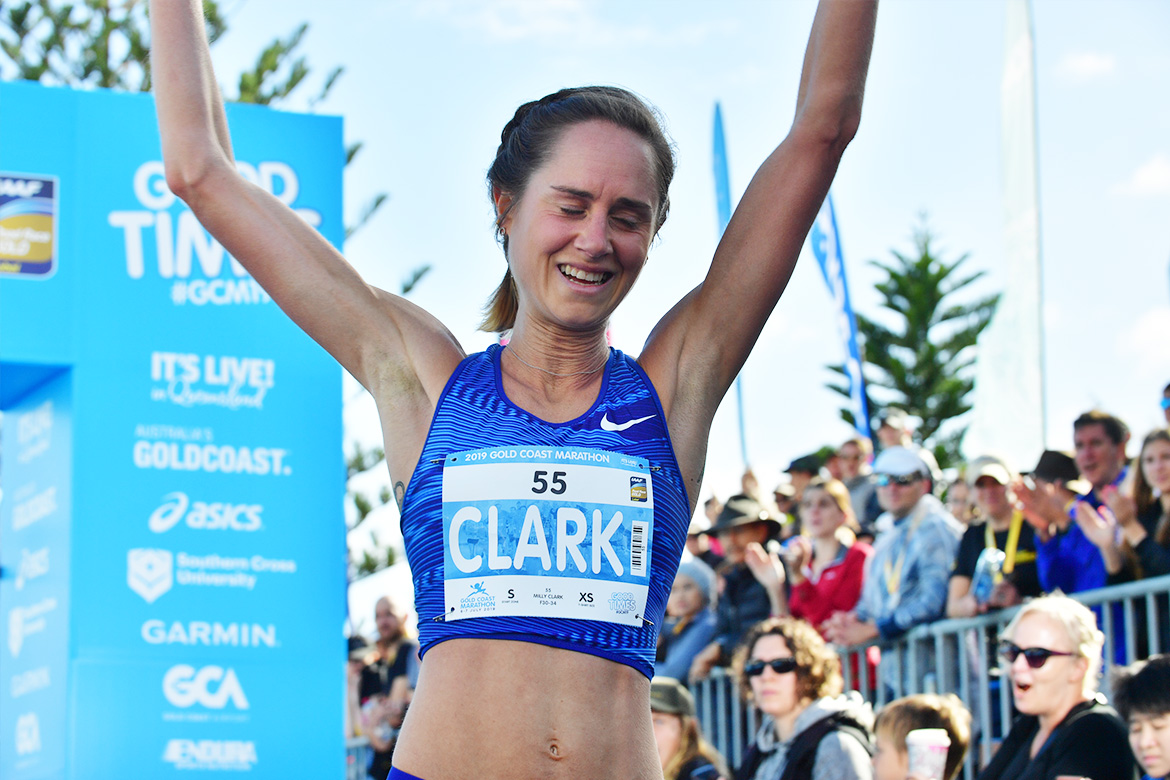 Tasmanian Milly Clark crosses the 2019 Gold Coast Marathon finish line in 2:28:08. 
---
The Village Roadshow Theme Parks Gold Coast Marathon is set to host the Australian Marathon Championships for the next three years commencing at the 2020 event on 4-5 July.
The event last held the championships in 2014, which saw the best Australian marathoners battle it out over 42.195 kilometres in pursuit of becoming the men's and women's national champion along with the state or territory team champion.
Australian marathon record holder and Events Management Queensland board member Benita Willis welcomes the opportunity for the Village Roadshow Theme Parks Gold Coast Marathon to host the event.
"As the first marathon in Australia to attain a World Athletics Gold Label, this event regularly attracts the best athletes from across the globe and now we can build on this reputation at home by further enticing the finest Aussie marathoners," she said.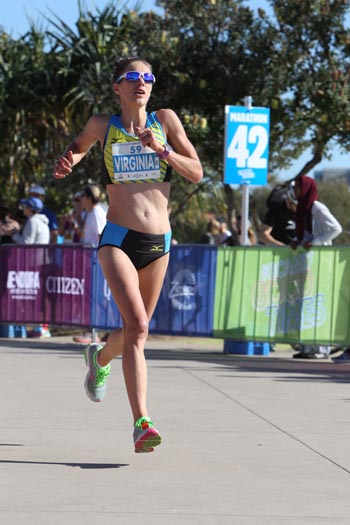 Virginia Moloney runs five minutes faster than her PB in the 2017 Gold Coast Marathon. 
---
"This announcement lines up perfectly with Events Management Queensland's mission to build the status and depth of Australian marathon running.
"By hosting it on the Gold Coast's flat, fast course with amazing atmosphere and world-class elite athlete services, we can achieve just that."
Athletics Australia Chief Executive Officer Darren Gocher said that the Gold Coast is going to be a great home for the Championships.
"There has been a strong progression in marathon running in Australia over the last few years and with the announcement that the Gold Coast will host the Australian Marathon Championships for the next three years – we are sure to see some excitement," Mr Gocher said.
The championships also add an exciting interstate rivalry to the event, with the inclusion of a team's champion award. Each state and territory, who will nominate a team of six athletes, has three runners eligible to score points towards the team results.
Events Management Queensland CEO Cam Hart is enthusiastic about increasing the depth of the Australian field in the already internationally-renowned event.
 "We've seen some stellar performances by Australians on the Gold Coast in recent times and with the championships adding another reason to run fast, we're in for some great racing over the next three years," he said.
"Earlier this year we saw a standout performance from Tasmanian Milly Clark, who came second with a PB of 2:28:08 and a Tokyo Olympics qualifier, while in the men's race, Victorian tradie-turned marathon runner Liam Adams also put himself in the frame for Tokyo with a PB of 2:11:36.
"And in 2017, national title holder Virginia Moloney slashed five minutes off her championships winning time and PB on the Gold Coast, so we're expecting amped up Aussie competition here in Queensland."