Spectators and Entertainment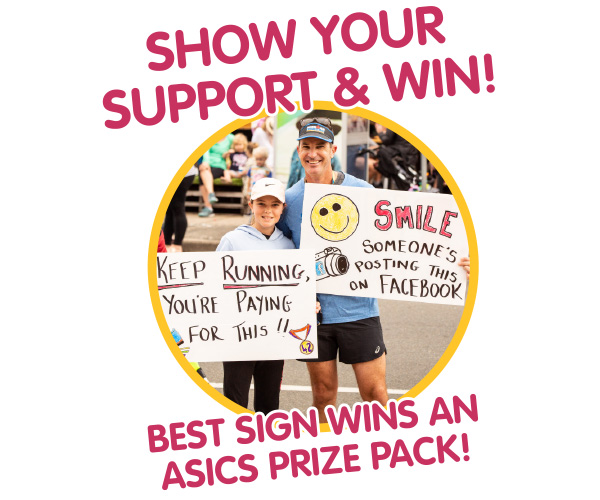 Show your support and Win 1 of 5 ASICS prize packs.
We are delighted that the Village Roadshow Theme Parks Gold Coast Marathon is back in 2022. It is famous for its atmosphere created by the cheering and buzz of the crowds and entertainment on course. If you're not running at this year's event, we encourage you to share in the excitement and atmosphere by cheering on the runners along the course from Paradise Point to Burleigh Heads.
Show your support and create a sign that supports runners or brings a smaile to their face. To enter tag a photo of your supporters sign @gcmarathon on instagram and use the hashtag #GCM22SUPPORTERS to win one of 5 ASICS prize packs. Winners will be notified on the 6 July 2022. Good Luck and happy supporting!
See course maps for the best locations to watch the race.
Be a part of the buzz and excitement of Australia's leading marathon by lining the Gold Coast streets from Runaway Bay to Burleigh Heads and encourage thousands of runners to marathon glory. Celebrate good times and soak up the thriving atmosphere with live local entertainment at various vantage points along the 42.195 kilometre course.
Grab some breakfast at one of the cafes and clubs on course for the energy you'll need to cheer to your heart's content! Decorate your house or business, capture your special moments by tagging your spectator photos to social media with #GCM22 or watch our live stream at goldcoastmarathon.com.au. You can even follow your friend or family member running via the results page!
ASICS Half Marathon Entertainment
| | | | | | |
| --- | --- | --- | --- | --- | --- |
| KM | Location | Entertainer | Start Time | Finish Time | Participants go past |
| 0 | Race Precinct, Southport Broadwater Parklands | Start Line Entertainment | 5:00am | 10:15am | 6am – 10:10am |
| 4 | Bayview St/ Marine Pde Roundabout, Runaway Bay | LIVIN Motivators | 6:15am | 8:30am | 6:15am – 8:36am |
| 8 | Spinnaker Park, Poinsettia Ave, Runaway Bay | Joseph Vea | 6:30am | 7:45am | 6:18am – 7:28am |
| 11 | The Esplanade at Mallard Ave, Paradise Point | Blue Poppy | 6:30am | 8am | 6:33am – 8:00am |
| 13 | Spinnaker Park, Ponsietta Ave, Runaway Bay | Joseph Vea | 6:30am | 8:15am | 6:18am – 8:22am |
| 16 | Bayview St/ Marine Pde Roundabout, Runaway Bay | LIVIN Motivators | 6:15am | 8:30am | 6:18am – 8:36am |
| 18 | Harley Park, Marine Pde, Labrador | ASICS UPLIFT ZONE and Michael Marzano | 6:30am | 8:30am | 8:25am – 8:50am |
| 18 | Harley Park, Marine Pde, Labrador | Fixx Nutrition Motivators | 6:30am | 8:30am | 8:25am – 8:50am |
| 19 | Leonard Fox Park, Marine Parade, Labrador | DR Rhythm | 7am | 11:15am | 8:25am – 11:10am |
| 21 | Race Precinct, Southport Broadwater Parklands | Finish Line | 6am | 11:30am | 5am – 11:20am |
Gold Coast Marathon Entertainment
| | | | | | |
| --- | --- | --- | --- | --- | --- |
| KM | Location | Entertainer | Start Time | Finish Time | Participants go past |
| 0 | Race Precinct, Southport Broadwater Parklands | Start Line Entertainment | 5:00am | 11:00am | 6am – 12:40pm |
| 5.5 | Cavill Avenue, The Esplanade, Surfers Paradise | PASH Blues Rock | 6:45am | 10:15am | 6:05am – 10:15am |
| 6.5 | BMD Northcliffe SLSC, Garfield Terrace, Surfers Paradise | Rio Rhythmics | 6:45am | 10:00am | 6:09am – 9:58am |
| 8 | Broadbeach SLSC, Broadbeach Blvd, Broadbeach | JAM Duo | 6:45am | 9:45am | 6:12am – 9:45am |
| 9 | Kurrawa Park, Old Burleigh Rd, Broadbeach | Tayla-Lee Music | 6:30am | 9:30am | 6:12am – 10:58am |
| 12 | Nobby's Beach SLSC, Cnr Lavarack Rd and Albatross Ave, Mermaid Beach | Caribbean Connection | 6:30am | 9:00am | 6:20am – 9:05am |
| 13.5 | Cnr Hythe St and Marine Pde, Miami | Blue Poppy | 6:30am | 9:00am | 6:23am – 8:57am |
| 14.5 | North Burleigh SLSC, The Esplanade, Miami | Jazz Kings | 6:40am | 8:45am | 6:26am – 8:47am |
| 15.5 | North of First Ave, The Esplanade, Burleigh | Michael Marzano | 6:30am | 8:45am | 6:28am – 8:29am |
| 17 | North Burleigh SLSC, The Esplanade, Miami | Jazz Kings | 6:40am | 8:45am |  6:26am – 8:47am |
| 18 | Cnr Hythe St and Marine Pde, Miami | Blue Poppy | 6:30am | 9:00am | 6:23am – 8:57am |
| 19 | Nobby's Beach SLSC, Cnr Lavarack Rd and Albatross Ave, Mermaid Beach | Caribbean Connection | 6:30am | 9:00am | 6:20am – 9:05am |
| 22 | Kurrawa Park, Old Burleigh Rd, Broadbeach | Tayla-Lee Music | 6:30am | 9:30am | 6:12am – 9:33am |
| 23.5 | Broadbeach SLSC, Broadbeach Blvd, Broadbeach | JAM Duo | 6:45am | 9:45am | 6:12am – 9:45am |
| 24.5 | BMD Northcliffe SLSC, Garfield Terrace, Surfers Paradise | Rio Rhythmics | 6:45am | 10:00am | 6:09am – 9:58am |
| 25.5 | Cavill Avenue, The Esplanade, Surfers Paradise | PASH Blues Rock | 6:45am | 10:15am | 6:05am – 10:15am |
| 27 | Narrowneck, Main Beach Pde, Surfers Paradise | Tuba and Trombone | 7:15am | 10:15am | 6:52am – 10:19am |
| 29.5 | Proud Park, Waterways Dr, Main Beach | Funky Drummers | 7:30am | 10:45am | 6:57am – 10:44am |
| 31 | Carey Park, Gold Coast Hwy, Southport | LIVIN Motivators | 6:30am | 11:30am | 6:35am – 10:57am |
| 32.5 | North of Stevens St, Southport | Motivators | 8:45am | 12:30pm | 7:00am – 12:14pm |
| 33 | North of Robert St, Frank St, Labrador | Afrodisia | 7:30am | 11:45am | 6:45am – 11:15am |
| 34.5 | Harley Park, Marine Pde, Labrador | ASICS UPLIFT ZONE and Fixx Nutrition Motivators | 6:30am | 12:00pm | 6:49am – 12:10am |
| 36 | Bayview St / Marine Pde Roundabout, Runaway Bay | Motivators | 9:00am | 12:00pm | 7:11am – 11:43am |
| 37 | Cnr Broadwater and Bayview St, Runaway Bay | Babash | 8:00am | 11:45am | 7:14am – 11:52am |
| 37.5 | Bayview St / Marine Pde Roundabout, Runaway Bay | Motivators | 9:00am | 12:00pm | 7:11am – 11:43am |
| 39 | Harley Park, Marine Pde, Labrador | Fixx Nutrition Motivators | 6:30am | 12:00pm | 6:49am – 12:10am |
| 40 | Len Fox Park, Marine Parade, Southport | DR Rhythm | 6:45am | 12:30pm | 6:54am – 12:20pm |
| 42.2 | Race Precinct, Southport Broadwater Parklands | Finish Line | 6:00am | 1:00pm | 6:00am – 12:40pm |