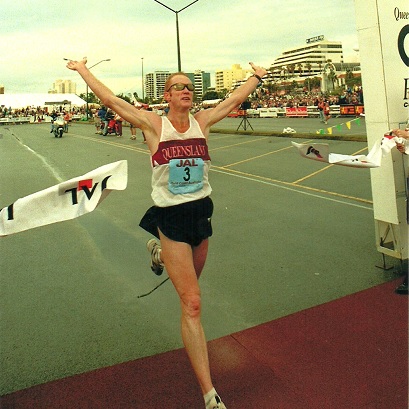 What's your favourite thing about GCM?
It is a true joy to be able to take part in a running festival in one of Australia's most cherished holiday destinations. The early morning start taking in the sun coming up over the Broadwater never disappoints and the fact that the various events hug the coastline results in a flat course like no other. The professional Gold Coast Marathon Team are second to none when it comes to staging an event that gives you the best opportunity to run to the best of your ability.
Best advice for running GCM?
Refer to the overall strength of your preparation to determine a realistic goal time. Run an even pace and if you're running either the Marathon or the Half Marathon use your long training runs as an opportunity to perfect your race day nutrition and fluid intake.
"I love running and I also love the Gold Coast. The Gold Coast Marathon is a great combination for me and each time I attend I get a buzz when I reflect on my strong history with the event." – Pat Carroll
Nickname: PC
Lives: Brisbane, Queensland AUS
Contact: Website | Facebook | Instagram
Career Highlights
Four-time winner Gold Coast Marathon (1983, 1984, 1988 & 1997)
Australian half marathon All-Comers record holder (1:01:11)
Three-time Commonwealth Games Australian marathon representative and top-eight finisher
Winner 1995 Beppu Marathon (2:09:39)
1988 and 1999 Australian Marathon Champion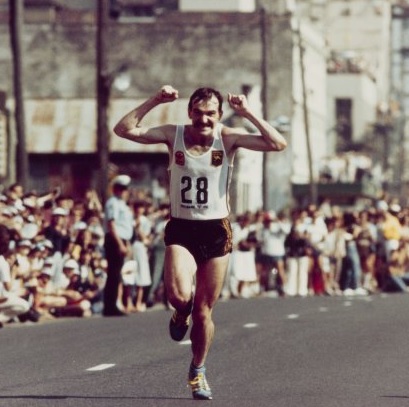 What's your favourite thing about GCM?
It is the fastest, biggest and best weekend of running in the country and one of the best in the world…something not to be missed!
Best advice for running GCM?
Draw on the energy, support and excitement of the event, the crowd and all your fellow runners, so when it gets hard (and it will), over the last 5 or 10k, you can push all the way to the finish & hopefully a PB!
"It's the best running weekend in the country because of its course, crowd, location and organisation. It's one of the biggest second-tier marathons and now the winning times are getting faster, we'll see more and more top runners coming to get personal best times and this will increase the profile even more." – Robert de Castella
Nickname: Deek
Lives: Canberra, Australian Capital Territory AUS
Contact: Website | Twitter
Career Highlights
Winner 1981 Fukuoka Marathon in 2:08:18 (world record from 1981 to 1984)
Three-time Commonwealth Games Australian marathon representative and two-time winner (1982 & 1986)
Winner 1983 World Marathon Championship
Winner 1983 Rotterdam Marathon (2:08:37)
Four-time Olympian and three-time top 10 finisher (1980, 1984, 1988 & 1992)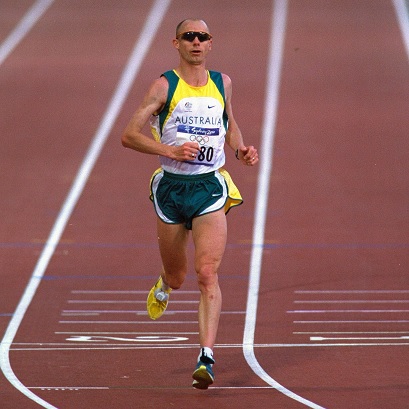 What's your favourite thing about GCM?
My favourite thing is catching up with friends I haven't seen in a while and, of course, seeing the smiles on participant's faces as they run up the finishing straight knowing they have achieved their dream.
Best advice for running GCM?
My best piece of advice is to study your chosen event course map and if possible run the last 6km of it prior to race day so you know how far to go when you start to get tired.
"It is such a friendly and well-organised event that it is too good to miss. It is certainly comparable to other major international marathons in terms of course, scenery, organisation and atmosphere and it is now building a real tradition also." – Steve Moneghetti.
Nickname: Mona
Lives: Ballarat, Victoria AUS
Contact: Twitter | Facebook
Career Highlights
Winner 1994 Commonwealth Games marathon (2:11:49)
Four-time Olympian and three-time top 10 finisher
Four-time Commonwealth Games representative and medalist
Six-time World Championship representative and three-time top 10 marathon finisher
1993 ASICS Half Marathon equal-winner (1:01:48)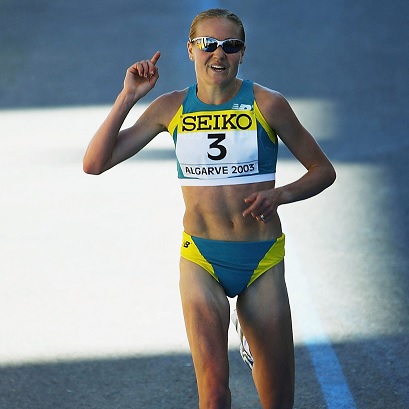 What's your favourite thing about GCM?
My favourite thing about the Gold Coast Marathon is that it brings the community together through health, fitness, and common goals. Not only the local community but across Australia and around the world. I love the excitement that you feel when you visit the expo, arrive on race day and throughout the whole weekend.
Best advice for running GCM?
My best advice I'd give to runners would be to make sure you don't overtrain. You want to arrive at the event feeling ready to go – make sure you take it super easy the week before especially, so you feel amazing on race day!
"I love the Gold Coast and feel this buzz of excitement in the air during the whole Gold Coast Marathon weekend. The organisers do a great job with such smooth running of all races and making it such a great experience for all involved." – Benita Willis (head coach of Lace Up Running – individualised online coaching).
Nickname: B
Lives: Gold Coast, Queensland AUS
Contact: Website | Instagram
Career Highlights
Winner 2004 World Cross Country Championship (27:17)
Australian female marathon, 10,000m, 5,000m, 3,000m and 2,000m record holder
Four-time Olympian (2000, 2004, 2008 & 2012)
Two-time Commonwealth Games representative (2002 & 2006)
Six-time World Championship Australian representative and three-time top 10 finisher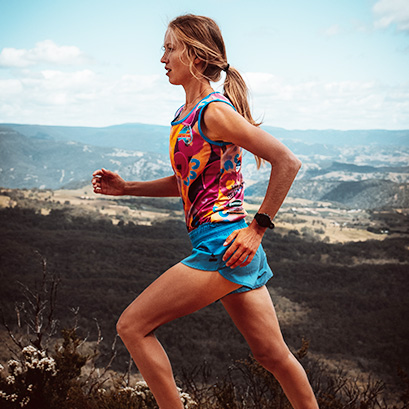 Erchana has taken marathon running to another level, completing 150 consecutive marathons on her record-breaking run from Cape York to Melbourne earlier this year. She not only traversed the entire East Coast of Australia on foot, but successfully raised over $130,000 for at-risk Australian wildlife while inspiring thousands of people from around the world to lace up and get moving.
Erchana has been racing on the Australian domestic scene since 2013, with a shared love for both road racing and cross country. Her marathon PB is 2:50:25 in Brighton (United Kingdom) in 2019. A Gold Coast local, Erchana has made it her mission to use her love of running to help shape the future of our planet.
Looking for a challenge? Join Erchana at the 2024 Gold Coast Marathon!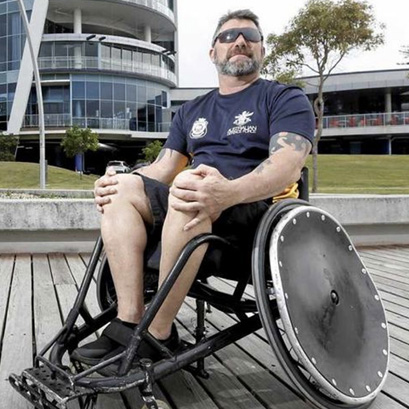 Gold Coast Marathon's newest Ambassador Pete Rudland has had nearly three decades of experience in the Australian Army and is a qualified counsellor and fitness instructor who now provides assistance to veterans with post-traumatic stress and physical injuries.
He is a passionate advocate for veterans and their families bringing to the fore his lived experience from his time during service and on deployment to Cambodia, East Timor Iraq and Afghanistan
Pete was medically separated from the Defence Force following a 2010 Blackhawk helicopter crash in Afghanistan that left him with skeletal injuries and a traumatic brain injury.
As part of his rehabilitation, he has gone on to represent the Australian Defence Force in three Invictus Games including one as Australian co-captain. An incredibly versatile athlete, he won two Invictus gold medals in recumbent cycling and one in wheelchair rugby. He also competes in Ironman and marathon events, including the 2023 Gold Coast Marathon as part of the continued evolution of his rehabilitation.
Pete is an Ambassador for RSL Australia, a Pain Champion for Pain Australia, an Ambassador for the Kokoda Project at Liverpool Plains and a board member for RedSix, an app created to assist in defence and veteran mental health. He is also a member of the Australian War Memorial Gallery Redevelopment Advisory Committee and is on the Advisory Committee for the Royal Commission into Defence and Veteran Suicide.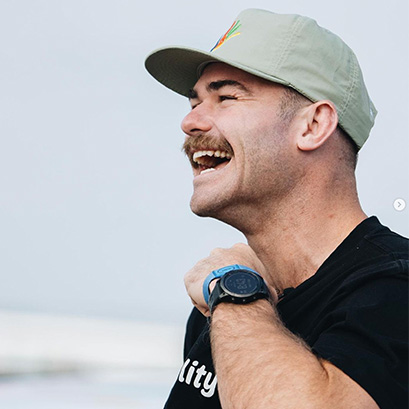 Gold Coast born and bred former professional rugby league footballer Keegan Hipgrave will join an exclusive group of Australian athletes when he takes on the role of Ambassador for the Gold Coast Marathon and runs his first ever marathon at the 2024 event.
A Gold Coast Trinity Lutheran Primary School student and keen surfer Keegan played junior rugby for the Nerang Roosters and rounded out his senior schooling in the sporting excellence program at Palm Beach Currumbin State High School. He went on to play 49 first grade games with the Parramatta Eels and the Gold Coast Titans before an abrupt retirement at 24 years of age following a series of serious concussions.
Keegan concedes running has never come naturally but his determination kicks in and once he "gets into the flow" with some time on his feet he loves it and has completed a 50km ultra marathon and more recently participated in the City to Surf 14km fun run.
Host of his own podcast series 'Keegan and Company' the talented and passionate advocate for sport and the benefits it brings to mental health chats to high profile athletes about their secrets to success, the highs and lows of being a professional athlete and what happiness feels like for them.
Keegan will draw on his years on the sporting field, his resilience, determination and upbeat energy to help motivate participants to achieve their goals. Whether they are considering the Gold Coast Airport 5km Run, going the distance in the 42km marathon or any event in between, Keegan will provide words of wisdom and support to help participants make it to the finish line.