---
The Gold Coast Marathon has secured a naming rights sponsor with Village Roadshow Theme Parks signing a three-year agreement with Australia's leading marathon.
Tourism Industry Development Minister Kate Jones said the move was a show of confidence by Village Roadshow Theme Parks and represents long term significant support of the Gold Coast tourism industry and its major events.
"To grow our tourism industry on the Gold Coast, it's crucial that we have strong partnerships with the private sector," she said.
"Today's announcement brings together two of the region's great attractions – a world-class running event and our iconic theme parks. It's a great example of how our iconic attractions and major events work together to deliver a great return for the Gold Coast economy.
"Events like the Gold Coast Marathon inject tens of millions of dollars into the economy and generate thousands of room nights. We also know they bring thousands more international and domestic tourists to the Coast each year."
Figures released earlier this week showed the Gold Coast Marathon pumped a record $32.5 million into the economy this year, generating more than 115,000 visitor nights.
Village Roadshow Theme Parks CEO Clark Kirby said the company was proud to align with the IAAF gold label event.
"We are excited to partner with the Gold Coast Marathon as the naming rights' sponsor and we're looking forward to the amazing opportunities to showcase our theme park experiences through the partnership," Mr Kirby said.
"Similar to our theme parks, the Gold Coast Marathon is such an iconic part of the city and I believe that with the great synergy between the brands, together we can offer a truly world-class event for all involved."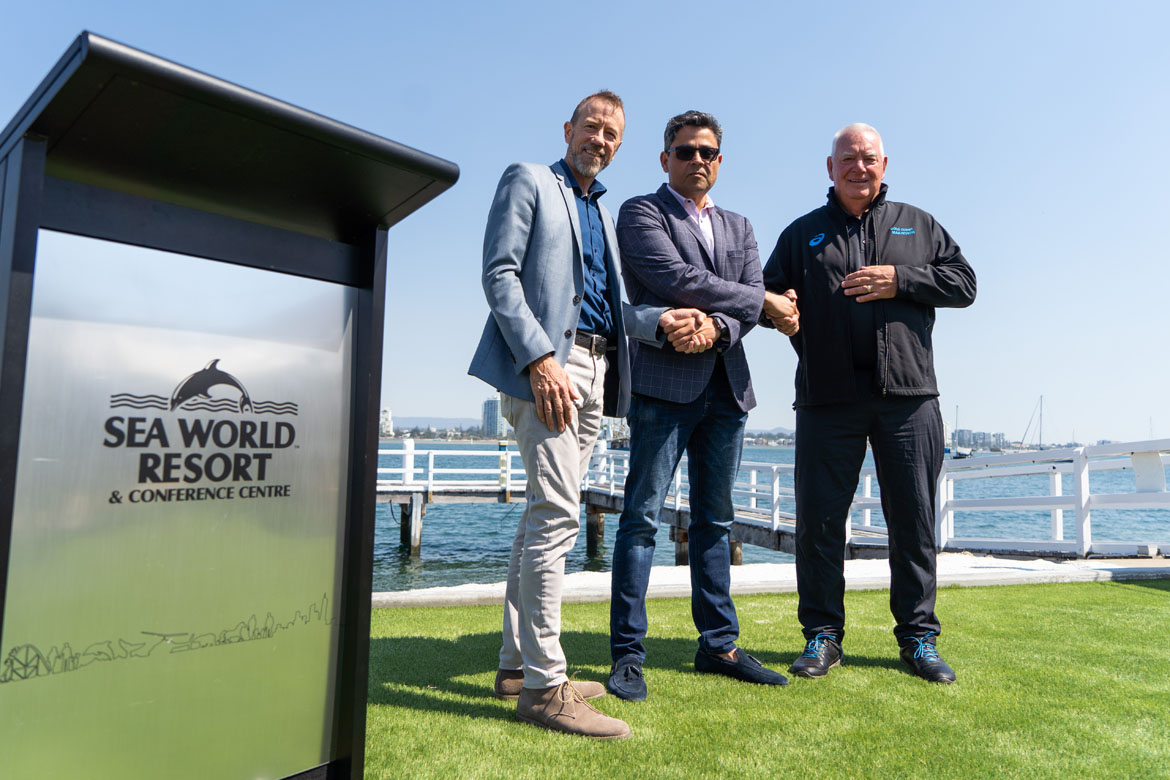 Village Roadshow Theme Parks are the new naming rights sponsor of the Gold Coast Marathon and ushering in the new partnership are (left to right) Events Management CEO, Cam Hart, Village Roadshow Theme Parks COO, Bikash Randhawa and Events Management Queensland Chairman, Paul Donovan. 
---
Events Management Queensland Chairman Paul Donovan is confident the partnership will open new opportunities for the event and boost already continuing growth and visitor interest.
"Over the last decade, the Gold Coast Marathon has been on a growth trajectory and with an additional $3 million in visitor spending recorded this year alone, we are committed to ensuring the event reaches new heights," Mr Donovan said.
"We are excited about this sponsorship, because in addition to providing an investment into the event, it will showcase the importance of the Gold Coast Marathon to our city and we hope other businesses will join us on the latest journey on which we are embarking.
"The Gold Coast is famous for being a world-class holiday destination and with the marathon attracting 46,000 visitors to the region this year, it makes sense for us to partner with a sponsor that brings another key tourism drawcard to the Gold Coast – our theme parks.
Events Management Queensland CEO, Cam Hart said the new sponsorship will build upon the success of previous naming rights sponsors, opening the doors for a bigger and better marathon.
"We've benefited significantly from naming rights partners in the past, with Japan Airlines coming on in the 1990s and Gold Coast Airport being naming rights sponsors for 16 years which took us into new global markets.
This step up by Village Roadshow Theme Parks is an exciting one further our efforts in putting the event on the map in a big way," Mr Hart said.
The Gold Coast Marathon is the first in Australia to hold an IAAF Road Race Gold Label and welcomes 28,000 participants in eight races over two days.
Village Roadshow Theme Parks is a wholly-owned division of Village Roadshow and operates key Gold Coast attractions, Warner Bros. Movie World, Sea World, Wet'n'Wild, Paradise Country, Australian Outback Spectacular, Sea World Resort & Water Park and Top Golf.
The Gold Coast Marathon is organised by Events Management Queensland, a wholly-owned subsidiary of Tourism and Events Queensland.
The 42nd Gold Coast Marathon will be held 4 – 5 July 2020.