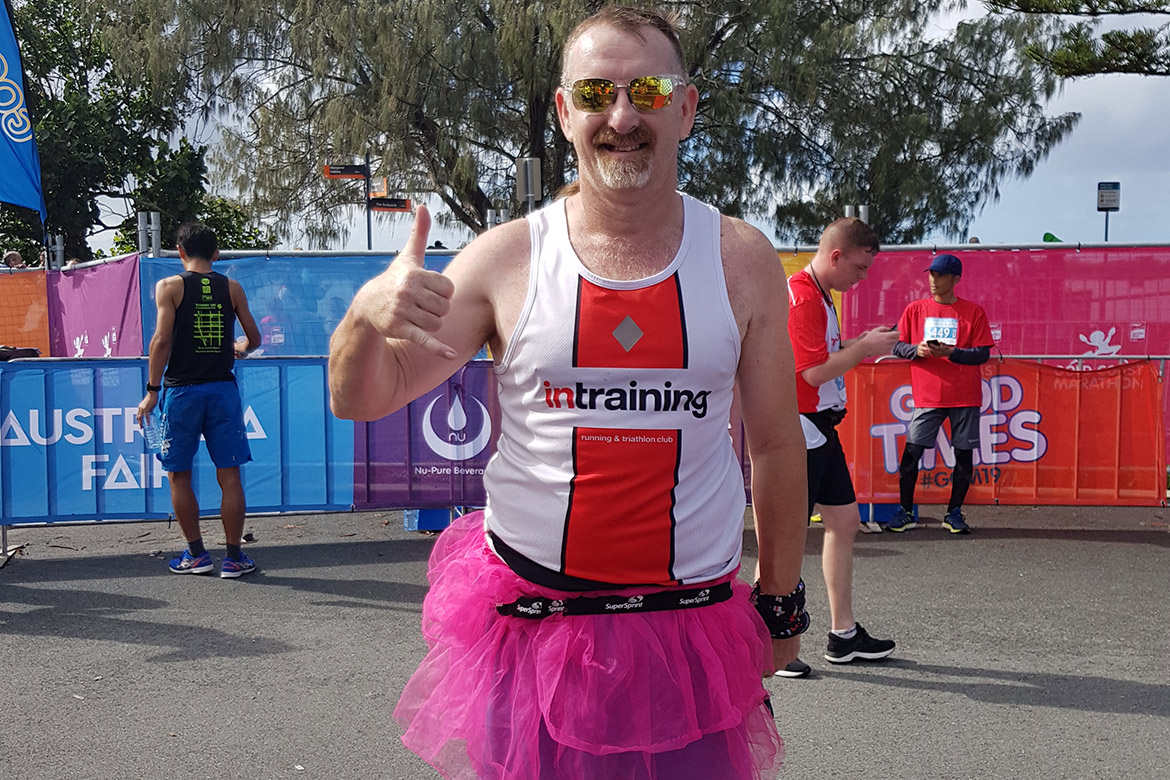 Grantley Fiddyment added plenty of colour and enthusiasm, despite his backward approach to the Gold Coast Marathon.
---
By Octavia Goldburg
Grantley Fiddyment completed his third full Gold Coast Marathon today, but to continue a unique tradition he ran the last half of the marathon backwards.
After joining the intraining Running Club three months ago, Grantley,46, from Brisbane, decided to join his fellow club members in this year's marathon so he wouldn't 'miss out on all the fun'.
"I joined intraining Running Club and I've been running with them for three months. There is about 280 people down here through intraining and I kind of got FOMO (Fear Of Missing Out)," he said.
Grantley, dressed to impress with his fluoro pink tutu, impressed all in the grandstand when crossing the finish line backwards.
"I usually finish every running event backwards," he said. "It's my thing, my trademark. "It's very quick going out forwards and then backwards is very slow."
When asked how his trademark finish began, he said he owed it to one of his children.
"I was running with my kid one day and we almost fell over at the finish line and finished backwards. We loved it, so we have to do it every marathon. We always wear a tutu as well."
Grantley was ecstatic with his time of 4hrs:57mins:59sec, finishing below his five-hour goal.
"I'm very happy – sub-five hours was the aim."
This marathon served as a training run for Grantley's next marathon on the Sunshine Coast this August which will act as his qualifier for the 2020 Boston Marathon.
The weather held out for Grantley who was incredibly happy with the day.
"The weather was absolutely gorgeous. I loved it! A couple of showers, but it was almost a perfect time."
He also expressed his thanks to all the supporters he met along the way.
"I have to say that the volunteers were absolutely wonderful. The drinks station, ambulance, everybody was just fantastic out there."