'King' Kenneth Mungara's attempt at a record-equalling fourth victory in Sunday's Gold Coast Marathon will have to overcome an imposing international strike force that has reached Olympic proportions.
The 45-year-old Kenyan has already been crowned three times on the Gold Coast (2015, 2016, 2018) and is the race record holder (2:08:42). Victory on Sunday morning would place him alongside event ambassador Pat Carroll (1984, 1985, 1988, 1997) and Gold Coast grandmother Margaret Reddan (1981, 1984, 1985, 1986) as the only other runners to have won this race four times in its 41-year history.
In both the men's and women's marathons the undoubted lure of the Tokyo 2020 Olympic beacon will have a strong influence on both races with many runners keen to eclipse the qualifying marks of 2:11:30 for men and 2:29:30 for women.
Lining up alongside Mungara is a truly elite 'chase pack', who have the punching power to possibly dethrone The King and write their own names into this world class marathon story.
Also in the top 10 are four fellow-Kenyans, two Japanese, an American, a New Zealander and an Aussie all with podium credentials. And each has a compelling 'best seller' to be written.
Mungara (PB 2:07:36) has to look no further than countryman Philip Sanga (PB 2:06:07) to see the quality of threats posed. Sanga has Gold Coast form, placing fifth here last year (2:11:44) and has more than a decade of elite marathon experience across the globe including nine previous sub 2:10 marathon results during his career.
That Olympic flavour will be a definite attraction for Japan's Yuki Kawauchi and Yuta Shitara.
The 27-year-old Shitara recorded his PB (2:06:11) at the 2018 Tokyo Marathon, setting the new Japanese national record and winning himself 100 million yen ($878,000). At the 2018 Chicago Marathon, Suguru Osako then broke Shitara's record when he ran 2:05:50.
Shitara is also Japan's half marathon national record holder (1:00:17).
Kawauchi is a Gold Coast favourite, winning here in 2013 and being a part of some great recent battles with Mungara.
One other name has the potential to cast his shadow across this entire event. US Olympic track star Bernard 'Kip' Lagat will be in the house on marathon Sunday and gives script writers a sub-plot with awesome potential.
Lagat's CV places him among the best-credentialled runners to ever set foot on the Gold Coast Marathon course. He is a five-time Olympian, the second fastest 1500m runner of all time, he has won 13 medals across his Olympic and World Championship appearances and now, aged 44, has set his sights on the marathon and a sixth Olympics.
In his debut 42.195km race at the New York Marathon in November last year, he ran a respectable 2:17:20. He now has targeted the fast Gold Coast course to launch him into USA team calculations for Tokyo 2020.
New Zealander Zane Robertson presents as a possible fairy-tale result.
He and his twin brother Jake moved to Kenya at age 17 to immerse themselves in the culture that produces the world's best distance runners.
Now, aged 29, Zane is aiming to complete his first marathon … and win.
"First and foremost, I always target the win. I want to run as fast as the pacemakers allow and once they step off the road anything can be possible. Perhaps a new Oceania record?" Robertson said.
Aussie Liam Adams (PB 2:12:52) leads the Aussie chase and has eyes on a fast time. He was fifth in last year's Commonwealth Games Marathon on the Gold Coast in 2:21:08 and has had considerable success in the ASICS Half Marathon, winning the event in in 2012 (1:03:28) and placing second in 2015 and 2017.
Adams has already shown sharp form this year with wins in both the Sydney and Canberra half marathons. In fact, he set his PB in Sydney with a 1:02:51.
In the women's marathon, Tasmanian Milly Clark is hoping the Gold Coast Marathon will send her directly to the Tokyo 2020 departure lounge.
Back on track after 18 months recovering from foot fractures, she is aiming for a tantalising treble – a podium, a PB and an Olympic qualifying time.
"This race is pretty significant in that I just want to test where I am at," she said. "I want to be back in the hunt and know what it is like to run that 42.195km.
"It would be good to get a podium finish … and that is what I will be aiming to do. I need to get below that 2:29:30 and finish in a position that gives me the most amount of points to start my Tokyo campaign."
Clark, whose PB is 2:29:07, is no stranger to the Gold Coast Marathon weekend of events. In 2013 she was second in the Southern Cross University 10km Run. The following year she stepped up to the ASICS Half Marathon and won.
She has been back on a further two occasions, placing sixth in the half in 2015 and was second in that same event in 2017.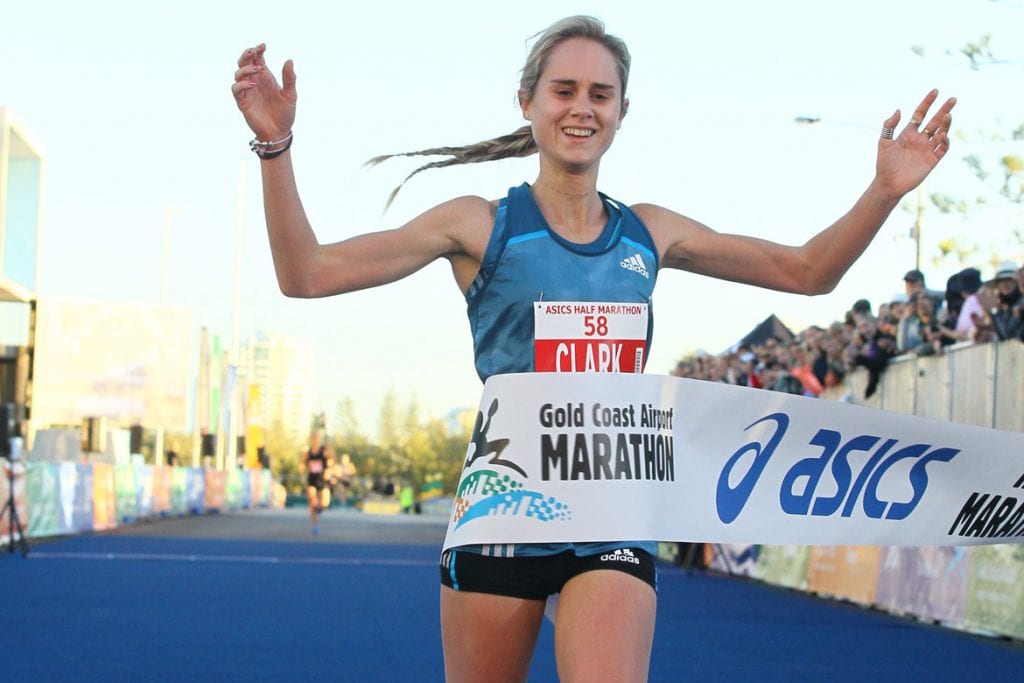 Milly Clark is hoping this year's race will get her an entry ticket to Tokyo.
Since returning from injury this year she has been in solid form across a variety of distances, including winning the 10km Run the Bridge Hobart in 34:28; winning the Canberra Half Marathon in 1:15:36 and placing third in the Sydney Half Marathon in May in 1:15:55.
Her biggest competition is likely to come from a group of four Kenyan sub-2:30 runners led by
Mercy Kibarus, who will be coming back to the Gold Coast after placing second here in 2017. Kibarus has a PB of 2:26:52 and in addition to coming second on the Gold Coast in 2017, she also won the 2018 Sydney Marathon and is no stranger to running well after the long travel from Kenya.
In addition to Kibarus there are other Kenyan, Ethiopian, Eritrean, Mongolian and Japanese women with PBs between 2:27 – 2:33. In what is a very open race, all have a good chance of finishing on the podium if they have a good day.
View the Elite Athlete Field here
The 41st edition Gold Coast Marathon will be held on 6-7 July 2019.
It will feature eight races including the Gold Coast Marathon (IAAF Gold Label Road Race), Wheelchair Marathon, ASICS Half Marathon, Wheelchair 15km, Southern Cross University 10km Run, Gold Coast Airport Fun Run, Garmin 4km Junior Dash and Garmin 2km Junior Dash.
The Gold Coast Marathon is organised by Events Management Queensland, a major event management company wholly owned by the Queensland Government as part of Tourism and Events Queensland.