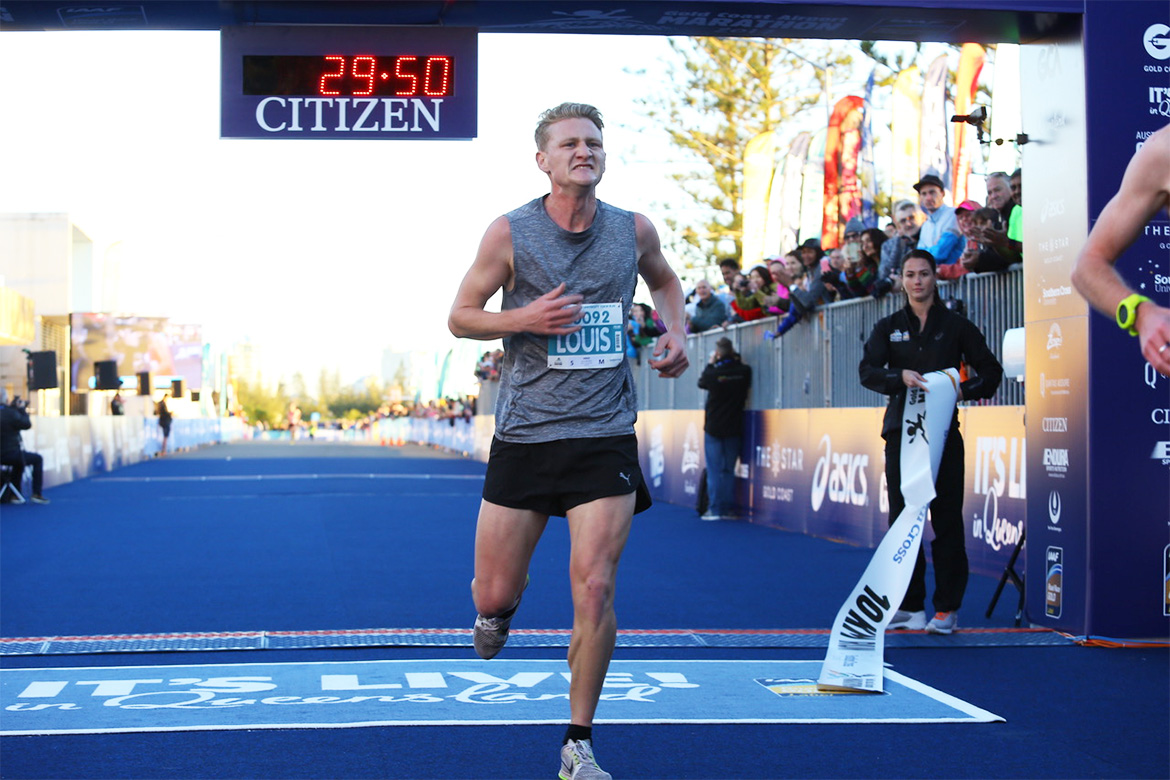 Louis McAfee placed third in the 2017 Southern Cross University 10km run.
Louis McAfee is aiming to silence his career doubts with a standout performance in Saturday's Southern Cross University 10km Run. 
The 22-year-old, who lives in Brisbane but trains and works on the Gold Coast, has always believed the elite running world was out of his reach but he's determined to change that mindset at the Gold Coast Marathon. 
"I have always thought that events like the Commonwealth and Olympic Games were out of my scope, but this year has been such a great year for me," McAfee said. 
"I am trying to break through and winning this weekend would be a major push in that direction. I am feeling really good at the moment and training the house down."
McAfee placed third in the Southern Cross University 10km Run in 2017 in a PB of 29:50 and earlier this year won the Noosa Half Marathon. 
 He will also have one key supporter on the sidelines on Saturday who knows exactly what is needed to win on the streets of the Gold Coast. 
 His mum Janet will be cheering him on. She won the Gold Coast Marathon back in 1987 and has been a major support throughout her son's career. 
 "She loves coming out to watch me race," McAfee said.  
 "But she has never pushed me. It has always been my decision to run." 
And the assistant teacher at The Southport School believes there is no better place than the Gold Coast Marathon to launch his renewed desire to be a world-class runner. 
"This is the best weekend of the year for me," he said.  
"The whole atmosphere from Thursday onwards is amazing.
"That atmosphere is the reason people run so fast on the Gold Coast."
McAfee's main rivals are expected to be Brad Milosevic (PB 29:24), Kieren Tall (PB 29:40), Arron Spiessberger-Parker (PB 30:02) and Reece Edwards (PB 30:02). 
The women's favourite in the Southern Cross University 10km Run is Canberra's Leanne Pompeani, who won this event in 2016 in 33:59. So far this year she has been in good form winning the Australian Running Festvial 10km (33:48), placing second in the Sydney 10 in a PB (33:02) and also was second in the Sydney Half Marathon in 1:15:10, also a PB. 
Pushing her will be South Australia's Casey Wood, who finished just three seconds behind Pompeani, to place third in the recent Sydney 10.               
The Southern Cross University 10km Run also offers a crystal ball to the future of Gold Coast and Australian distance running. 
Two young athletes, Imogen Stewart and Chekole Getenet, have both starred at the Gold Coast Marathon as elite juniors and will be showcasing their talents against open-aged rivals in the 10km event. 
Sydney's Stewart is just 13 years of age, yet has already been atop the podium at Gold Coast on three occasions. She won the Garmin 2km Junior Dash in 2014 and 2016, setting the record in that year at 6:47. 
Last year she stepped up to the 4km version, and despite being a 12-year-old in a race with a 14-year age limit, she won and set the new record for that event at 12:48. 
Getenet, from Brisbane, won the Garmin 4km Junior Dash in 2015 and since has continued his climb through the athletics ranks. Earlier this year he competed for Australia in the IAAF World Cross Country Championships in Denmark. 
The 10km is a marked increase in distance for Getenet, who during his teens has excelled at the 1500m, 3000m and 5000m.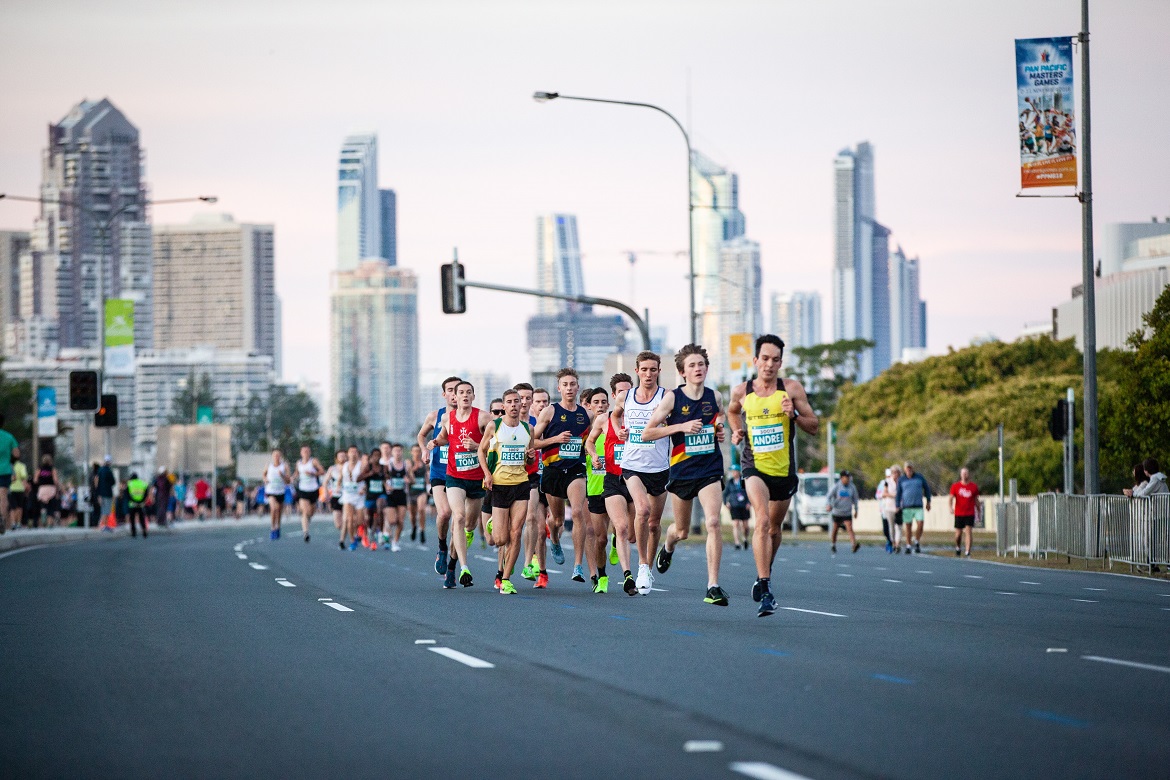 The 41st edition of the Gold Coast Marathon will be held on 6-7 July 2019. 
 It will feature eight races including the Gold Coast Marathon (IAAF Gold Label Road Race), Wheelchair Marathon, ASICS Half Marathon, Wheelchair 15km, Southern Cross University 10km Run, Gold Coast Airport Fun Run, Garmin 4km Junior Dash and Garmin 2km Junior Dash. 
The Gold Coast Marathon is organised by Events Management Queensland, a major event management company wholly owned by the Queensland Government as part of Tourism and Events Queensland. 
The elite fields for the ASICS Half Marathon, the Wheelchair Marathon and the Gold Coast Marathon will be released later this week. 
Southern Cross University 10km Run – Male Elite Field  
Race Record – 28:42 (Jordan Gusman, AUS, 2018) 
NAME
COUNTRY
PB
PROFILE

Brad Milosevic

 

AUS 

0:29:24

(Hobart, 2018)

 

IAAF

Kieren

Tall

 

AUS 

0:29:4

0 (Sydney, 2019)

 

IAAF

Louis McAfee

 

AUS 

0:29:50 (

Gold Coast

,

2017

)

 

IAAF

Arron

Spiessberger

– Parker

 

AUS 

0:30:02 (Sydney, 2019)

 

IAAF

Reece Edwards

 

AUS 

0

:30:02 (

Sydney,

2018

)

 

IAAF

Brady Threlfall

AUS 

0:30:05 (

Launceston

,

2014

)

 

IAAF

Joe Burgess

AUS 

0:30:11 (

Gold Coast

,

2018

)

 

IAAF
Tim Norton

AUS 

0:30:17 (

Gold Coast

,

2018

)

IAAF

Martin

Mashford

AUS 

0:30:17 (

Gold Coast

,

2016

)

IAAF

Edward Vining

 

AUS 

0:30:2

3

(

Sydney

,

2018

)

 

IAAF

Southern Cross University 10km Run – Female Elite Field

 

 Race Record – 32:17 (Lisa Weightman, AUS, 2012) 

NAME
COUNTRY
PB
PROFILE

Leanne

Pompeani

AUS

0:33:02 (Sydney, 2019)

 

IAAF

Casey Wood

 

AUS

0:33:05 (Sydney, 2019)

 

IAAF

Gemma Maini

 

AUS 

0:33:5

1

(

Melbourne

,

201

5

)

 

IAAF

Henrietta Lawrence

 

AUS

0:34:

45

(

Melbourne

,

201

8

)

 

IAAF

Charlotte Wilson

 

AUS

0

:34:08 (

Gold Coast

,

2018

)

 

IAAF

Britt

Firley

 

AUS

0:34:10 2010

Beth Croft

 

AUS

0:34:20 2018

Sarah Marvin

 

AUS

0:34:24 (

Sydney

,

2019

)

 

IAAF

Kiah

Fry

AUS

0:34:26 (

Melbourne

,

2018

)

 

IAAF

Belinda Martin

 

AUS

0:3

3

:

48

(

Sydney

,

2018

)

 

IAAF