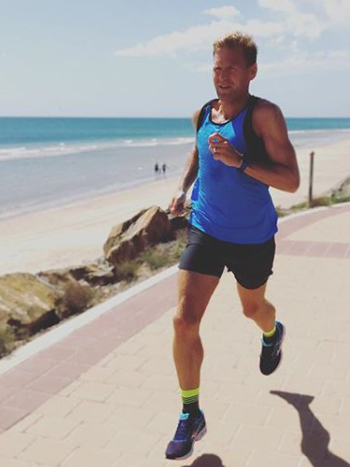 Kane Cornes is hoping to shave a minute off his half marathon PB in the ASICS Half Marathon on July 7 
Update: Kane will now be running the full Gold Coast Marathon
Retired AFL player, Footy Show panellist and radio personality Kane Cornes is trading his footy boots for runners at this year's Gold Coast Marathon.
Cornes completed his last long training run on Saturday, just hours before his team created an upset, defeating Geelong, currently number one on the ladder.
This is a good omen for Cornes who, after 15 years competing at the highest level in the AFL, will be making his Gold Coast Marathon debut in the ASICS Half Marathon on Sunday 7 July.
The 2004 Port Adelaide premiership midfielder, 36, is far from slowing down in his retirement, instead choosing to challenge himself in new ways by training for the 21km event.
"AFL training is completely different- it's a sprint-based aerobic sport that is pretty demanding with tackling and changing direction but marathon running is a lot of long, slow running – just getting to the start line is hard!" Cornes said.
"The challenge I've had is training myself to run slower. When I was footy training, the most we'd run in a week was 70km, now I do 70km by Wednesday!"
Cornes has the advantage of clocking up training sessions with fellow-South Australian running partner Jessica Stenson (nee Trengove), who had an impressive year last year, winning bronze in the Gold Coast 2018 Commonwealth Games Marathon in April, finishing runner up in July's Gold Coast Marathon and taking out the $40,000 incentive for Australian runners, before bettering her PB in Toronto in October in 2:25:59.
"Jess has made me take my running more seriously. She has an ability to dig very deep when she doesn't have much left and a mental toughness I haven't seen in other athletes," he said.
"She has taught me to mentally take myself to a different place when it gets tough."
Since taking up long-distance running after retiring from AFL in 2015, Cornes has attained impressive finish times in Adelaide, New York and Melbourne.
"I winged it in the Adelaide Marathon in 2016 in 2:52:10 which took me ages to recover from and later that year doing the New York Marathon (3:10:30) fuelled my passion for running," he said.
"In 2017, I ran the Melbourne marathon achieving my PB of 2:35:12, then my attempt the following year was a tricky day which was warmer than usual and windy and I ran 2:36:39."
Cornes will be attempting to better his 2019 New York City Half Marathon time of a slick 1:12:21 by one minute after downgrading from the full marathon following complications with anaemia which inhibited his training routine.
"I want to go quicker this year, New York is quite hilly and the Gold Coast course is conducive to a fast run," he said.
South Australian runners are well represented amongst the estimated 28,000 participants in this year's event.
"The Gold Coast Marathon is popular with runners from here because it is a prestigious event and a great holiday destination," Cornes said.
"I'm looking forward to having some good times and relaxing for a break after the marathon with my wife, Lucy, and our three kids.
"We're going to enjoy the sun and my 9, 11 and 12-year-olds are eyeing off the theme parks too!"
View this post on Instagram
Cornes is also looking forward to seeing the stellar line up of elites for the 42km Gold Coast Marathon.
"I'm excited to hang around and see some of the names to watch and this year the stakes are higher with those chasing Olympic qualifiers," he said.
"I love Liam Adams- his running is awesome and Sinead Diver has been on fire, so there's a couple I'm keen to follow."
For more information on the Gold Coast Marathon elite field visit: https://goldcoastmarathon.com.au/race-weekend/elites/
The 41st edition of the Gold Coast Marathon will be held on Saturday 6 and Sunday 7 July 2019.
It will feature eight races including the Gold Coast Marathon (IAAF Gold Label Road Race), Wheelchair Marathon, ASICS Half Marathon, Wheelchair 15km, Southern Cross University 10km Run, Gold Coast Airport Fun Run, Garmin 4km Junior Dash and Garmin 2km Junior Dash.