Inspirational marathon runner Anderson 'Ando' Moquiuti who is pacing not one, but two events in this year's Gold Coast Marathon has warned 'the dark times will come' for the first timers, and those pushing for PBs on 6-7 July.
Ando also reveals that by pushing through the darkness and the doubts, runners will cross the finish line to 'a life that shines brighter than ever before'.
The Southern Cross University 10km Run holds a special place for the Brazilian-born Australian. In 2005 he was struck down by the rare and extremely debilitating Guillain-Barré Syndrome, which attacks the nervous system.
His illness and lengthy rehabilitation process included a period when he was told by doctors that he may never walk but Ando refused to accept that diagnosis and battled the doubts.
As he emerged from his own 'dark times', the avid surfer decided in 2010 to put his toe into the water of the running world.
"When I was in hospital one of the physios suggested that 'when the waves are too crowded to surf, why not try running'," he recalled.
"I decided that the 10km was a good place to start."
Since then, Ando has become a running phenomenon. The now 40-year-old has competed in numerous marathons and ultramarathons.
On Gold Coast Marathon weekend he will be running as a Pat Carroll Online & Onland Pacer in both the Southern Cross University 10km Run and the Gold Coast Marathon for 3 hours and 10 mins.
He urges runners in all events to believe in themselves and 'trust the process'.
"Especially for the first timers, they will be anxious on the starting line," Ando said.
"They will be scared. They are attempting something they have never tried before and they don't know what will happen. And the dark times will come.
"But remember, that is life. Every day is a new journey that we aren't 100 per cent sure where it will take us. However, all runners should have prepared, followed a program. On race day you need to have faith in that process.
"You know that you have done the work and that will help you, physically and mentally. You know that at some stage of the race you are going to hurt. But in life, we hurt a little bit every day. You push through and then a new day dawns.
"Make no mistake, running is 80 per cent emotional and mental and 20 per cent physical. The mind guides the body anywhere. So, in training you are training your mind as much as your body."
Ando has one key piece of advice to help runners through those dark times.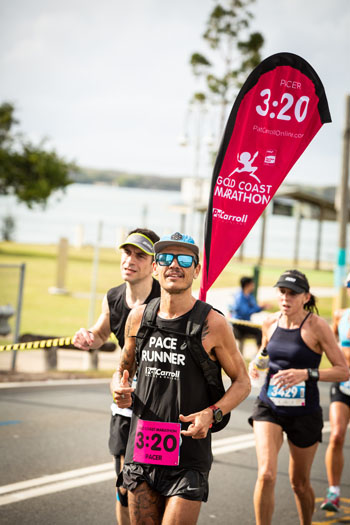 Ando will be pacing this year's Southern Cross University 10km Run (40mins) and the Gold Coast Marathon (3hrs 10mins).
"When I race, I have the names of my daughters (Teiya, 12, and Mattise, 16) written with a quote on my left forearm. It is placed where only I can see it. It's not for others, its for me," he explained.
"So, when the doubts come, I glance down at those names and the quote and I know they are with me and I can achieve anything."
Ando also explained the 'why' to people who are not runners.
"There is a life after that finish line – a life that shines brighter than ever before," he said.
"You can see it on the faces as they live in that moment. You cross the finish line and you turn into another person who knows anything is possible.
"That's why people run."
The 41st edition of the Gold Coast Marathon will be held on Saturday 6 and Sunday 7 July 2019.
It will feature eight races including the Gold Coast Marathon (IAAF Gold Label Road Race), Wheelchair Marathon, ASICS Half Marathon, Wheelchair 15km, Southern Cross University 10km Run, Gold Coast Airport Fun Run, Garmin 4km Junior Dash and Garmin 2km Junior Dash.