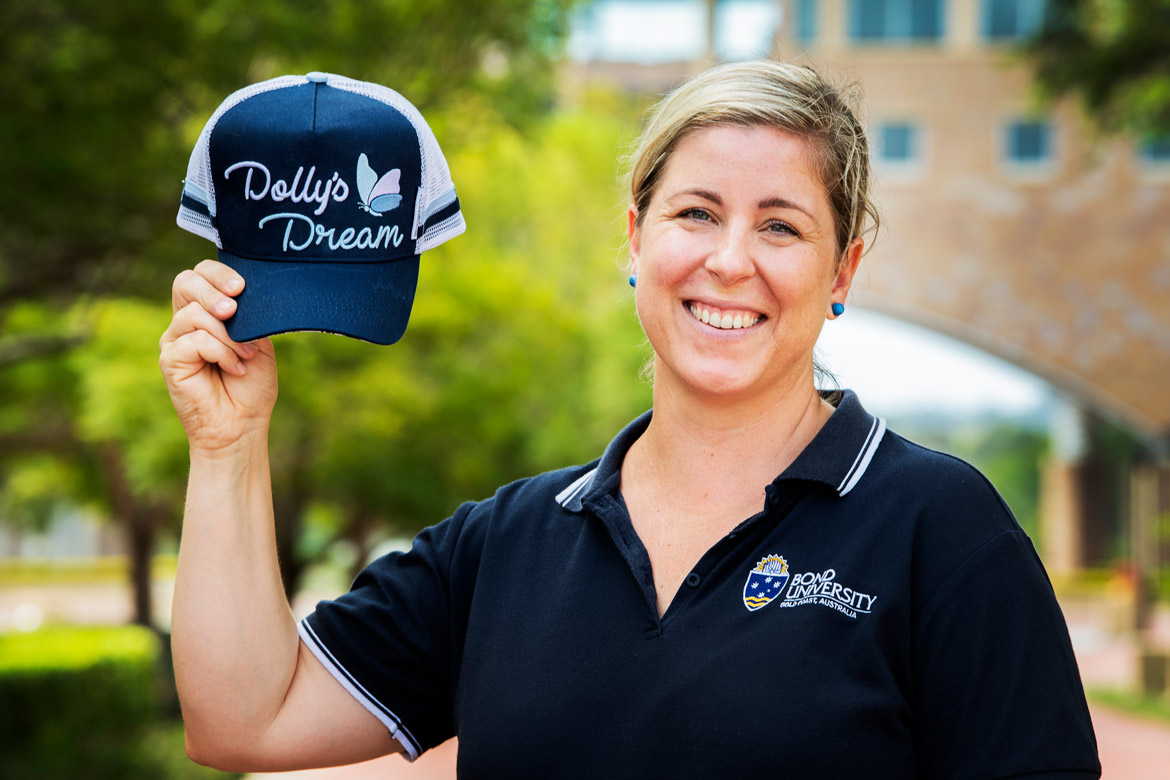 Lauren Ballie will be running in the ASCIS Half Marathon while raising funds for the Dolly's Dream Foundation.
---
Mudgeeraba mum Lauren Ballie, 38, will put years of debilitating pain behind her to tackle her first ASICS Half Marathon on Sunday 7 July's feature day of the 2019 Gold Coast Marathon.
The student engagement specialist at Bond University's Career Development Centre will be running in support of an old school friend and his heartbreaking personal fight against bullying through the Dolly's Dream Foundation.
Dolly's Dream was set up in memory of Amy 'Dolly' Everett who took her own life at age 14 after an extended period of bullying and cyber bullying.
Dolly left behind parents Tick and Kate and her sister Meg who have dedicated their lives to help prevent other families going through the same devastating experience.
Tick Everett was a high school friend of Lauren's, a commonality being they both grew up on large cattle properties.
"It's a huge understatement, but Dolly's story really resonated with me for a lot of reasons," Lauren said.
"I had been bullied at high school and I have a seven-year-old daughter, Pippa, who I naturally watch over very closely as she grows up.
"I just think something has to change in the bullying space; enough is enough.
"Running the half marathon is a really good combination of doing something for myself, doing something for my daughter and doing something for the Foundation," she said.
Lauren has already raised $4,000 through the Foundation's Everyday Hero fundraising page, well on her way to her self-appointed target of $5000.
And her maiden half marathon assault is even more meritorious because of her own battle to get to the starting line.
Lauren has Fibromyalgia, a debilitating condition characterised by widespread musculoskeletal pain accompanied by fatigue, sleep, memory and mood issues.
She says, for her, it feels like arthritis with soft tissue damage compounded by bouts of lethargy and "pain in random places."
"I was really athletic once upon a time, but when I was pregnant with Pippa, I contracted a parvovirus viral infection and needed a blood transfusion.
"It was really stressful, and I think it may have been a catalyst for the poor health that followed.
"Now the half marathon has become a bit of a personal journey for me where I get the chance to pull my socks up, set an example for my daughter and help Dolly's Dream.
Despite signing up for the second longest race on the Gold Coast Marathon weekend program, Lauren says she's not a huge fan of distance running.
"I've found running is a mental thing; it really gets inside your head.
"It's not something where I go, 'yay, I can't wait to go running a whole lot of kilometres today'.
"But I've found training for this race has been a cathartic process because, if nothing else, it has given me a lot of time to think," she said.
For the past four months, Lauren has been training under the expert eye of well-known Gold Coast physiotherapist, distance running coach and motivator Brad Beer.
"My biggest fear is not making it to the end of the race, after all this effort.
"With my Fibromyalgia, my body is kind of out of my control, so it'll be mental more than anything, but I'm really confident that I can do it.
"All I need to do is remind myself why," Lauren said.
The Gold Coast Marathon is the first in Australia to hold an IAAF Road Race Gold Label and is expecting over 28,000 participants in eight races over two days, 6-7 July.
The event will feature the Gold Coast Marathon, Wheelchair Marathon, ASICS Half Marathon, Wheelchair 15km, Southern Cross University 10km Run, Gold Coast Airport Fun Run, Garmin 4km Junior Dash and Garmin 2km Junior Dash.