Cancellation options – Don't let your training go to waste!
We were so devastated to cancel the 2021 Village Roadshow Theme Parks Gold Coast Marathon knowing how hard you have worked to get to this point. Don't let your training go to waste, we still have your amazing finisher rewards waiting for you at the virtual finish line.
The following three options are now available: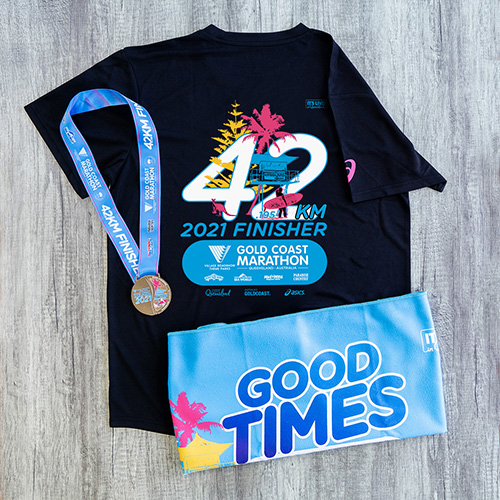 1. Transfer to the Virtual Event
We know it's not the way you wanted to earn your finisher rewards but a good second option! All entrants that transfer to the virtual event will be able to earn the #GCM21 finishers rewards from afar. Put all your training to good use and earn our fabulous finisher rewards!
You will receive an entry to our virtual event and a refund of the difference in fees. You are welcome to change the distance you originally entered or register for more than one event to the value of your current entry.
We would really like to encourage entrants to choose this option and appreciate your support! There will be a number of competitions held throughout and a chance to win a number of prizes.
The virtual event will take place from Saturday 3 July to Sunday 1 August 2021. Postage of your finisher rewards is included in your virtual event entry fee.
10,20,30 Year Club:
We would like to confirm that the 2021 Virtual event will count towards your 10, 20, 30 Year club count.
Gold Coast Double 63.3km Challenge:
Want to take on the Gold Coast Double 63.3km Challenge? Earn the extra 63.3km medal by competing in the Village Roadshow Theme Parks Gold Coast Virtual Marathon and ASICS Virtual Half Marathon events over the virtual race period.

2. Rollover your Entry to #GCM22
You can choose to transfer your entry to the 2022 Village Roadshow Theme Parks Gold Coast Marathon – taking place on 2-3 July 2022.
You will be transferred to the event you have selected this year however you will be able to change this distance if desired when entries open in the new year.

3. Receive a refund of your entry fees less a $20.00 processing fee
Junior Dash entries will only incur a $10.00 processing fee
Refunds will be processed in due course and entrants notified once completed.
Please note all donations via your registration to our partner charities Cancer Council QLD and LIVIN will be retained and forwarded on your behalf. We thank you for your goodwill.
NEXT STEPS
Please log in to the update my entry portal to select your chosen option by Sunday 4 July.
Thank you so much for choosing to join us for 2021, we will most definitely be back next year and we can't wait to see you there!!
For more information on the Virtual 2021 Village Roadshow Theme Parks Gold Coast Marathon click below
See you next year! 2 – 3 July 2022