A complete history of the Gold Coast Airport Marathon, from humble beginnings in 1979 to today: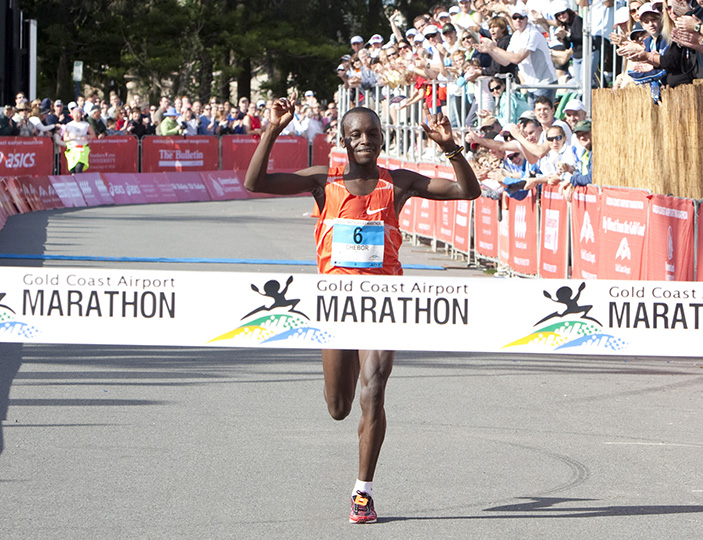 A Kenyan marathon debutant and the closest finish in the event's history highlighted the 31st annual Gold Coast Airport Marathon held on Sunday 5 July with a record 23,398 running in the beautiful Queensland conditions.
Kenya's William Chebon Chebor won the $10,000 victory prizemoney in the men's marathon with a barnstorming surge mid-race to cross the line in 2:11:58, the sixth fastest time in race history.
In the women's race, less than a second separated first and second with Western Australia's Lauren Shelley outsprinting Queensland rising marathon star Roxie Schmidt over the final 100 metres to win in 2:42:22.
On a day with glorious running conditions, 23,398 people greeted the starter's gun across all events on the program – the Gold Coast Airport Marathon, Asics Half Marathon, Southern Cross University 10km Run, Gold Coast Bulletin 5km Challenge and Queensland Health Junior Dash over 4km and 2.25km.
View the 2009 results.
The smashing of two long-standing race records, a world record and international clean sweeps of the 42.195km event were highlights of the new-look two-day Gold Coast Airport Marathon held in a glorious Gold Coast weather conditions.
A new event participation record of 23,812 was complemented by Michael Shelley's breaking of the 14-year Southern Cross University 10km Run record and Lisa Weightman's obliteration of the women's ASICS Half Marathon mark.
The feature race, the Gold Coast Airport Marathon, attracted a record 5,020 entrants with Kenyan trio James Kariuki, Peter Cherus and Ben Chebet blitzing the men's field while Japanese trio Kaori Yoshida, Chiharu Matsuo and Mayumi Fujita did the same in the women's race. Kariuki made his move with five kilometres to go and ran away to win in 2:13:53, while Yoshida was too strong in the women's race winning in 2:31:33.
Earlier in the day a long-standing record was broken when Weightman smashed an 18-year mark in the ASICS Half Marathon with her winning time of 1:09:00.
The day prior, the 14-year-old Southern Cross University 10km Run race record of 28:57 was broken when Michael Shelley set a new mark of 28:53 to win the event for the fourth time. While an age-level world record was achieved in the women's 60+ full marathon category by New Zealander Bernie Portenski.
View the 2010 results.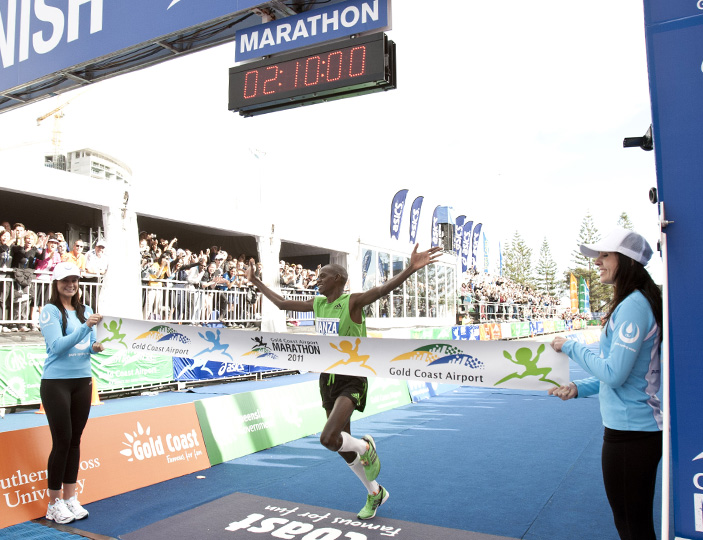 The breaking of a 22-year-old race record and the fastest ever non-games marathon in Australia cemented the Gold Coast Airport Marathon as having arguably Australia's fastest marathon course.
Kenyan Nicholas Manza's marathon win smashed, by 10 seconds, Brad Camp's previous race record of 2:10:11 set in 1989, and was the third fastest marathon ever run in Australia, bettered only by Rob de Castella and Juma Ikangaa's 1982 Brisbane Commonwealth Games marathons. Ethiopian Goitetom Tesema blitzed the women's marathon in 2:30:08, the second fastest time for a female in the history of the event.
History was also made in the ASICS Half Marathon when New South Welshman Jeff Hunt took the first ever back-to-back win of the 21.1km course. Fellow Sydneysider Lara Tamsett was the first female over the line, clocking a 1:12:19 finish in her half marathon debut.
Saturday's races were highlighted by Michael Shelley's fifth win in the Southern Cross University 10km Run. It took to six the total number of races Shelley has won at the event including his ASICS Half Marathon win in 2008, equalling fellow Queenslander and Gold Coast Airport Marathon ambassador Pat Carroll's record.
Records were set off the track too, with 120 teams comprising more than 6,000 runners registered. With a huge 603 members covering 10,399 kilometres of race course, Team Health took out corporate honours for the largest team as well as most kilometres travelled.
The Gold Coast Airport Marathon has grown in participant numbers for the past 10 consecutive years, with a record 24,726 entrants in 2011. Of those, more than 700 came from Japan and almost 400 travelled from New Zealand. Hundreds of runners from Malaysia, Singapore, Taiwan and other international destinations also participated.
View the 2011 results.
It was an Ethiopia and Japan double at the record-breaking 34th annual Gold Coast Airport Marathon held in beautiful running conditions on 30 June – 1 July 2012. An event record of 28,224 took part across all races including the most finishers ever in an Australian marathon race (5,104). This added additional gloss to the performances of Gold Coast Airport Marathon race winners Alemayehu Shumye from Ethiopia and Kaori Yoshida from Japan.
Shumye became the first Ethiopian man to win the Gold Coast Airport Marathon clocking 2:10:35, just missing out on the race record by a meagre 35 seconds. Filling the placings were two Kenyans, 25-year-old Robert Mwangi who clocked 2:12:19 for second closely followed by Ernest Kebenei in third in 2:12:49.
For the second time at the Gold Coast Airport Marathon, Yoshida blitzed her rivals and took the women's marathon crown in 2:30:36, just over a minute outside the race record. Madoka Ogi gave Japan the top two places when she crossed the line over three minutes later in 2:33:48. Kenyan Hellen Kimutai, 34, claimed third place in 2:36:45.
Three-time winner of the Wheelchair Half Marathon Richard Nicholson (ACT) seized his debut in the Wheelchair Marathon on the Gold Coast winning in 1:45:04. Alex Watson (NSW) surprised everyone on debut when she was victorious in the women's ASICS Half Marathon in 1:13:07.
The Tweed Heads local overcame the odds after recovering from life-saving surgery last year to be the leading female in the record-breaking field of 10,001 runners. 25-year-old Liam Adams (VIC) couldn't have asked for a better half marathon debut after taking out the men's ASICS Half Marathon in 1:03:28 with only six seconds separating him from second place Harry Summers (NSW).
Following the success of the 2012 event, the Gold Coast Airport Marathon was awarded an IAAF Road Race Bronze Label for 2013 elevating it to one of the premier marathon races in the world. This was the first time an Australian marathon race achieved this status.
View the 2012 results.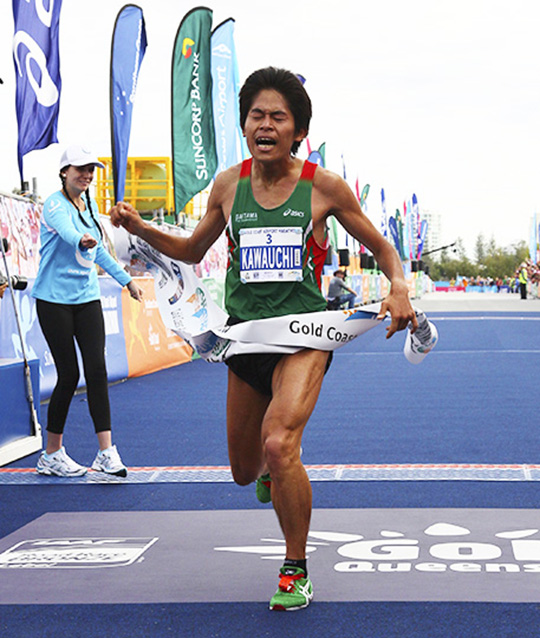 The Land of the Rising Sun dawned brightly again at the 35th Gold Coast Airport Marathon as Japanese runners won both the men's and women's marathons in course record times, while taking the top two spots in the men's race.
Yuki Kawauchi, 26, took out the men's race in a course record-equalling 2:10:01 with countryman Taiga Ito second in 2:11:52 and Eritrea's Tewelde Hidru third in 2:13:09.
However the highlight of the day was Japan's Yukiko Akaba, 33, who smashed a 20-year-old record when she stormed home to win the women's marathon in 2:27:17, easily eclipsing the old mark of 2:29:29, set back in 1993 by another Japanese runner Eriko Asai. Akaba finished ahead of Kenya's Alice Ngerechi who posted 2:29:48 with Russia's Alevtina Ivanova third in 2:32:01.
Richard Nicholson took out the Wheelchair Marathon for the second consecutive year.Canberra's Martin Dent, 34, had the perfect lead-in to the 2013 Moscow world marathon championships when he out-sprinted Japan's Shinichi Yamashita to win the ASICS Half Marathon in 1:03:56.
In the women's half marathon Melbourne's Nikki Chapple cruised to a comfortable win in 1:11:00 over Adelaide's Jessica Trengove who ran 1:11:51 with Melbourne's Abigail Bayley third in 1:14:23.
On the Saturday morning, new father Craig Mottram overcame a restless night to take out the Southern Cross University 10km Run. The 33-year-old four-time Olympian sprinted away from crowd favourite, Gold Coaster Michael Shelley, to win in 29:38. Shelley, who holds the record in the event at 28:53, crossed in second in 29:45 with fellow Gold Coaster Jackson Elliott in third in 29:55.
In the women's Southern Cross University 10km Run, Sydney's Lara Tamsett notched her second win on the course when she crossed the line first in 33:05. She finished ahead of fellow Sydney-sider Milly Clark who posted 34:25 with Bridey Delaney, also from Sydney, third in 34:26.
Reigning Queensland cross country age champion, Brisbane's Justin Currie, 13, was pushed all the way to the line before winning the boys' 4km Junior Dash in 13:20. He edged out Adelaide's Samuel Hargreaves with Brisbane's Jacob Bragg third. In the girls' 4km Junior Dash, Brisbane's Katrina Robinson, 12, sizzled home to a comfortable win in 13:55 over Mackenzey Ormiston from Ocean Shores, with Brisbane's Cara Woolnough third.
Of the 27,675 runners, more than 2200 travelled from overseas and over 7500 from interstate.
View the 2013 results.
Unheralded Kenyan Silah Limo quietly lowered the Australian all-comers record in a comprehensive victory at the 36th Gold Coast Airport Marathon.
As the thousands of onlookers erupted in applause at the Southport Broadwater Parklands finish line the 22-year-old whispered to a stunned throng of media that this was his first marathon. It was truly an unbelievable debut.
Not only had he won Australia's premier marathon which now carries the International Association of Athletics Federations (IAAF) Road Race Gold Label, he had also stamped the course as the nation's fastest. His time of 2hrs:09mins:14secs toppled the existing Gold Coast Airport Marathon record of 2:10:01, shaving four seconds off the fastest marathon ever in Australia – 2:09:18, set in 1982 by Aussie icon Rob de Castella at the Brisbane Commonwealth Games.
Yuki Kawauchi stormed home for third in 2:11:27, after spectacularly falling over at the 20km mark. American Jeffrey Eggleston (2:10:52) was second.
Women's winner Asami Kato, was elated at her Gold Coast debut, taking top place on the podium with a brisk 2:28:51. Second was country-woman Rika Shintaku (2:30:37) with Ethiopian Tsehay Desalegn Adhana third in 2:31:41.
The first Australian across the finish line in the marathon was 44-year-old ACT policeman Rowan Walker, who became the Australian marathon champion. He finished in 11th place in 2:21:47. The first female Aussie was Victorian Tarli Bird (2:43:58), who finished in eighth place on debut.
Gold Coast Airport Marathon sentimental favourite Lee Troop finished in 18th position in 2:27:23, bringing down the curtain on his Australian marathon career.After 42kms the wheelchair marathon finish was a cliffhanger with South Australian Nathan Arkley, edging out Australian paratriathlete champion Bill Chaffey – officially by a second.
Melbourne-based Kenyan Reuben Kosgei won the ASICS Half Marathon in a competitive 1:04:56. Sydney-based Milly Clark took out the women's ASICS Half Marathon in 1:14:04.
Mitchel Brown glided across the finish line recording a comprehensive victory in the Southern Cross University 10km Run in 30min:01secs. Sydney's  Bridey Delaney took out the Southern Cross University 10km Run women's title in 33:52.
More than 1500 youngsters were part of what again was a highly competitive 2km and 4km Junior Dashes at the Gold Coast Airport Marathon. Brisbane's Katrina Robinson continued her domination of these events with a win in the girls' 4km Junior Dash in 13:47. A focus from triathlon to athletics paid dividends for 14-year-old local Gold Coaster Joel Lonsdale who took out the boys 4km Junior Dash in 13:15
Brisbane 10-year-old Harrison Turner took out the boys 2km Junior Dash in 6:55 while Sydney eight-year-old Imogen Stewart won the girls 2km Junior Dash in a very smart 7:06.
View the 2014 results.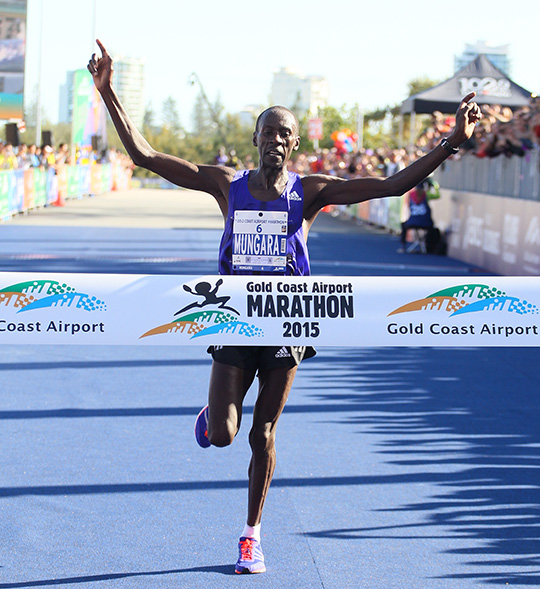 A year on from the long-standing Australian all comers marathon record being broken on the Gold Coast, the mark was given a further trim by a former barber from Kenya at an age many consider to be past their prime for athletic pursuits.
His name is Kenneth Mungara. His age is 41. The event was the 37th annual Gold Coast Airport Marathon.
Mungara put the clippers through his rival countrymen over the final two kilometres to cut the finish tape in 2:08:42, shaving 32 seconds off the Australian all comers and race record and two seconds off his own Masters 40+ world record.
The Kenyan, who only took up marathon running in his early 30s and believes his best is still to come, beat last year's race winner and previous all comers record holder Silah Limo by 12 seconds with Evans Ruto a further second behind in third.
Whilst Kenya stood one-two-three on the podium in the men's marathon, it was Japan who provided first to fifth in the women's 42.195km battle.
Risa Takenaka, 25, clocked the second fastest time ever at the Gold Coast Airport Marathon by a woman, crossing the line in 2:28:25. Takenaka finished over a minute ahead of Keiko Nogami (2:29:34) with Manami Kamitanida in third (2:33:43).
Bilambil Heights athlete Bill Chaffey took out the full distance Wheelchair Marathon title from two-time winner Richard Nicholson and local Gold Coast girl Sara Tait and Paul Ashley (NSW) in the Wheelchair 15km.
New South Wales speed machine Eloise Wellings made it three wins from her three starts over the half marathon distance when she was an emphatic winner of the ASICS Half Marathon.
Her win in 1:10:10 inflicted an Independence Day (American time) defeat on USA's Sara Hall (1:10:49) while Queenslander Cassie Fien, who set a 17 second personal best with her time of 1:11:28, was third.
In the men's race, Japan's Takehiro Deki put daylight between himself and the rest of the field to win the ASICS Half Marathon in made to order running conditions.
The top ranked 25-year-old marathon specialist bettered his personal best time over the shorter distance by a minute, recording 1:02:11 to beat Victoria's Liam Adams (1:03:29) by over a minute and the UK's Ben Moreau (1:04:32) by over two minutes.
36-year-old London 2012 Olympic Games marathoner and two-time ASICS Half Marathon winner Martin Dent showed fine adaptation to the shorter distance to take the win in the Southern Cross University 10km Run (29:26).
After a two-man breakaway at the seven kilometre mark, Dent needed to produce something special over the final 300 metres to defeat New Zealander Malcolm Hicks, who finished just two seconds  behind in 29:28. New South Wales runner Jordan Gusman (29:59) was third.
The women's race was won by Sydneysider Victoria Mitchell, who was a late entry into the event.
The 33-year-old Beijing Olympic and Melbourne Commonwealth Games 3000m steeplechase representative tamed the flat Gold Coast course in a time of 32:59, relegating Victorian 2014 Commonwealth Games marathoner Sarah Klein (33:15) and last year's Southern Cross University 10km Run winner NSW's Bridey Delaney (33:49) to the minor places.
Brisbane-based Ethiopian refugee Chekole Getenet showed the field a clean set of heels in the  4km Junior Dash. Getenet ran an attention-grabbing 12:39 to defeat local runner Lachlan Jones and Brisbane's Jaxon Paterson-Wright by 30 and 39 seconds respectively.
And in a case of running déjà vu, the podium positions in the girl's 4km Junior Dash were the same as last year. Carindale's Katrina Robinson (13:28) took the spoils again ahead of Mackenzey Ormiston (14:11) from Tweed Heads and Cara Jardine from Samford Valley (14:17).
In the 2km Junior Dash, Max Hooper from Victoria Point won the boy's race in 6:47 while Zillmere's Caitlyn Morse was the victor in the girl's race in 7:30.
More than 27,500 people took part in the 37th annual Gold Coast Airport Marathon, with organisers delighted with the community support, visitation from interstate and overseas and great and fast racing in what is an IAAF Road Race Gold Label event.
View the 2015 results.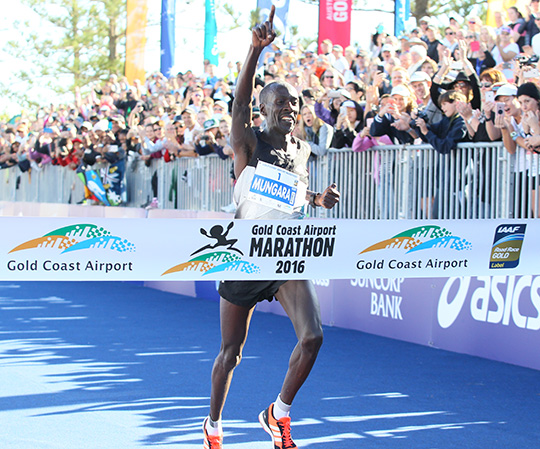 A women's race record and the first back-to-back men's winner in 17 years headlined the 38th annual Gold Coast Airport Marathon in glorious Gold Coast conditions.
Misato Horie took out her first Gold Coast Airport Marathon in the record time of 2:26:40, making it five consecutive wins by Japanese runners in the women's race on the Gold Coast.
Looking to repeat last year's win in record time, Kenya's Kenneth Mungara upstaged another previous winner from 2013 Yuki Kawauchi in an epic battle that went right down to a sprint finish.
The 42-year-old clocked 2:09:00 to break the tape only metres ahead of Kawauchi (2:09:01).
It was a Kiwi double in the IAAF Oceania Area Marathon Championships with Paul Martelletti (2:18:57) and Katie Kemp (2:40:05) claiming the spoils.
Australian Paralympic team co-captain Kurt Fearnley (NSW) broke a 16-year-old race record clocking 1:30:18 to win the men's race, while an ecstatic Christie Dawes (NSW) automatically qualified for her sixth Paralympic Games with her win in 1:43:45 breaking Louise Sauvage's 18-year-old race record.
Two Australian distance running talents Duer Yoa (VIC) and Cassie Fien (QLD) were victorious in the ASICS Half Marathon and, in doing so, won the IAAF Oceania Area Half Marathon Championships and Australian Half Marathon Championships.
Canberra speedster Hugh Williams built upon a stellar year by taking the Southern Cross University 10km Run in the third fastest time ever recorded for the race. The 24-year-old clocked 29:23, a time bettered only by perennial Gold Coast champion Michael Shelley's sub-29 minute runs of 2010 and 2011. The women's race was also taken out by a runner from the ACT with Leanne Pompeani, slashing 75 seconds off her personal best to win in 33:59 almost half a minute ahead of 2015 World Cross Country representative Gemma Maini (34:26).
The Zespri 2km Junior Dash saw a girl's champion of the past and future take the chocolates. 2014 winner, 10-year-old Imogen Stewart from Gymea NSW not only beat every boy in the 986-strong field, but set a new girl's race record when she stopped the clock in the sizzling time of 6:47. Nerang nine-year-old Matthew Lowe took the boy's win in 6:57.
Over the longer 4km distance, last year's third placegetter Jaxon Paterson-Wright from Coorparoo went two better by taking the 2016 title in a time of 12:39, ahead of Elanora's Sam McAuliffe (13:31) and Brisbane's Jake Martin (13:35). 14-year-old Zoe Manning (14:12) from Indooroopilly took the girl's spoils with a five second win over a fast-finishing Chloe Randall from Cabarlah (14:17) and Mudgeeraba's Jazi Coventry (14:47).
View the 2016 results.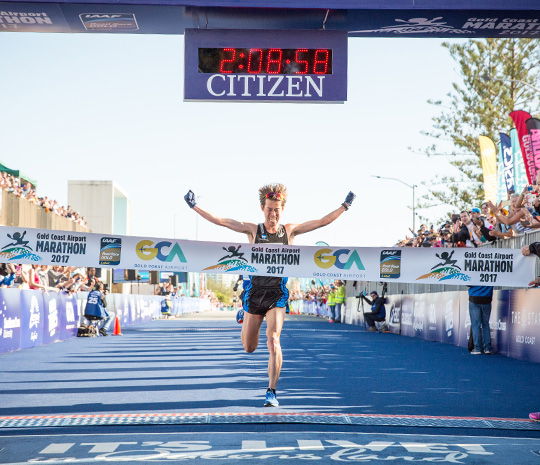 Japan's Takuya Noguchi spectacularly denied Kenyan Kenneth Mungara his third consecutive marathon victory while Ethiopia's Abebech Bekele took the women's event in equally sensational circumstances at the 39th annual Gold Coast Airport Marathon, an IAAF Gold Label Road Race, on Sunday 2 July.
Bekele's time of 2:25:34 slashed a massive one minute and six seconds off the race record, netted her a cool AUD 30,000 for her efforts and was the fourth fastest time for a women's marathon run on Australian soil, only behind the times set by the Sydney 2000 Olympic Games placegetters.
In the men's event, and in scenes eerily reminiscent of 43-year-old Mungara's battle over the final stages of last year's race with Japanese 'citizen runner' and 2013 winner Yuki Kawauchi, the race record holder and Noguchi were inseparable and occasionally bumping in to each other over the final two kilometres.
But this time, when Mungara went to his now-characteristic lead inside the final 500m, Noguchi was having none of it and found a kick that rocketed him over the finish line in 2:08:59 on his 29th birthday.
Australian wheelchair champion Richard Colman produced a scintillating finish to win the men's race while 19-year-old Sara Tait showed resilience beyond her years to even finish the race in the women's wheelchair marathon.
In the ASICS Half Marathon, Japanese men's race favourite Hiroki Yamagishi and US middle distance doyenne Sara Hall scored stunning all-the-way victories.
On Saturday, NSW distance running star Eloise Wellings and ACT's Timothy Lefroy started the race weekend in style with victories in the Southern Cross University 10km Run.
Jaxon Paterson-Wright and Chloe Randall were the respective boy and girl winners of the Zespri 4km Junior Dash while the boys' and girls' honours in the Zespri 2km Junior Dash went to 10-year-old Gold Coast runners Matthew Lowe and Kyah Anderson.
More than 25,000 people from 45 countries took part in this year's Gold Coast Airport Marathon with a record number of entrants from Indonesia, United States and Singapore.
View the 2017 results.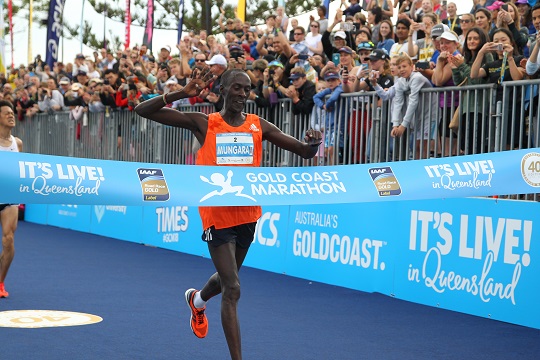 Kenya's Ruth Chebitok set a race record and the fourth fastest time recorded in Australia while compatriot Kenneth Mungara claimed his third victory in four years after a thrilling finish at the 40th Gold Coast Marathon on Sunday 1 July.
Chebitok, the first Kenyan woman to win, took home the $20,000 winner's purse and a $10,000 time bonus for her race record of 2:24:49, breaking the previous record of 2:25:34 (Abebech Bekele, 2017) by 45 seconds.
Creating just as much excitement was second placegetter Australian Jessica Trengove who claimed a special $40,000 Australian athlete incentive for finishing faster than 2:28 while also improving on her personal best in 2:26:31. Top seed Agness Barsosio from Kenya finished third in 2:27:46.
In the men's event, Mungara, 44, surged in the closing stages and pulled away from Japan's Kenta Murayama and Jo Fukuda to win by one second in 2:09:49. Mungara's resumé now includes three Gold Coast victories (2015, 2016 and 2018), a second placing last year, as well as an Australian allcomers and race record of 2:08:42 (from 2015).
After winning two gold medals on the Gold Coast in April's Commonwealth Games, 24-year-old Australian Madison de Rozario returned to the scene of her marathon victory and took out the women's Wheelchair Marathon in 1:48:21. US Paralympian Josh George won the men's race in 1:38:04 and in doing so, became the third fastest performer in the race's history.
The ASICS Half Marathon featured American Sara Hall claiming back-to-back victories in 1:09:27 while 22-year-old Jack Rayner added his name to an illustrious list of Australian male winners crossing the line first in 1:03:12.
On Saturday, Michael Shelley's eight-year-old Southern Cross University 10km Run race record was broken by Jordan Gusman in 28:42 while Commonwealth Games 10,000m finalist Madeline Hills showcased her versatility on the road with a dominant victory in the women's race in 32:35.
The Stewart siblings of Sydney wrote themselves into the record books and marked their names as distance running stars of the future in the Garmin Junior Dash. Imogen, 12, and Kobe, 10, won their respective races in record times to continue the family's decorated history at the Gold Coast Marathon which includes Imogen's 2km girls' record set in 2016 and Kobe's two 2km age category records (2014, 2016).
Imogen not only won the girls' division of the Garmin 4km Junior Dash, she was the first finisher overall, beating juniors aged up to 14 years. Her time of 12:48 is an impressive 31 seconds faster than the record previously held by Katelyn Simpson since 2008. Queenslander Flynn Pumpa took out the boys' 4km race in 12:54.
Kobe won the boys' Garmin 2km Junior Dash in 6:33, slicing 10 seconds off the previous race record set by Kobi Rutherford in 2011. Queenslander Analiese Murphy, 10, won the girls' division of the race in 7:20.
More than 27,000 people from 51 countries took part in the 40th annual Gold Coast Marathon, an IAAF Gold Label Road Race, including a record number of entrants from China, Hong Kong, Indonesia, Malaysia, New Zealand and Singapore.
View the 2018 results.
Japanese speedster Yuta Shitara smashed the Gold Coast Marathon record, taking out the IAAF Gold Label race in an amazing 2:07:50. He lowered the previous mark of Kenyan Kenneth Mungara (2:08:42), set in 2015.
Across the weekend there was an avalanche of incredible performances – from the grassroots to the elite.
Kenyan Rodah Jepkorir (KEN) held off a strong finishing burst from Tasmanian Milly Clark (AUS/TAS) to take out the women's Gold Coast Marathon.
The 27-year-old broke away from the 30km mark and then lasted to break the tape in 2:27:56, with Clark second (2:28:08) and Eritrea's Nazret Weldu (ERI) third in 2:28:57.
Sunday's races started spectacularly from an Australian perspective with Melbourne's Jack Rayner revelling in the rain, kicking clear in the later stages to win the ASICS Half Marathon in 1:02:30 ahead of Japan's Yuki Sato and Yuma Hattori.
The 23-year-old crossed the line in 1:02:30, bettering his winning time from last year (1:03:12), but outside his personal best of 1:01:01 set in Cardiff in October.
After being runner-up last year, Sinead Diver went one better this year to claim her first ASICS Half Marathon in 1:09:46, the fifth fastest performance in the history of the race.
These results have continued a great year for Rayner and Diver, both having recorded 2020 Olympic marathon qualifying times and also securing a $6,000 each winner's purse for their efforts.
In the Wheelchair Marathon, Australian Paralympians Bill Chaffey and Madison de Rozario were back on the Gold Coast and mining more gold.
ACT runner Leanne Pompeani won her second Southern Cross University 10km Run and setting a new PB of 33:00, becoming only the second woman to win the race more than once in the event's history.
In an enthralling men's race, 800m and 1500m track specialist Lachlan Barber (AUS/VIC) put in a withering finish burst to claim his first Southern Cross University 10km Run.
Barber clocked 29:58 in his first attempt at the 10km distance surging clear of Tim Vincent (AUS/QLD) over the final 400m to win by five seconds. Liam Boudin (AUS/QLD) was third in 30:18.
Brisbane 14-year-old Flynn Pumpa shrugged off difficult conditions to just fall short of a record result in the 2019 Garmin 4km Junior Dash. The win was Flynn's second in the event, taking the honours last year in 12:54, making him only the second male runner to have recorded multiple wins in the Garmin 4km Junior Dash.
Gold Coaster Sayla Donnelley was the first female home in the 2019 Garmin 4km Junior Dash, recording a time of 14:07.
Brisbane nine-year-old Aden Kelly continued to set the running world alight with a sizzling win in the Garmin 2km Junior Dash.
Kelly caught the attention of the running world when he recorded a time of 38:57, to smash the previous 10,000m record for his age group by 91 seconds. The youngster only took up running 17 months before the race.
It may have rained on the Gold Coast Marathon's 41st parade, but the conditions failed to halt a flood of inspirational performances, a race record and an exciting emerging Aussie Olympic campaign.
The eight Gold Coast Marathon races attracted a total of 26,287 entries, including 3,678 overseas competitors, as the event continues to achieve a long-term upward trend.
View the 2019 results.